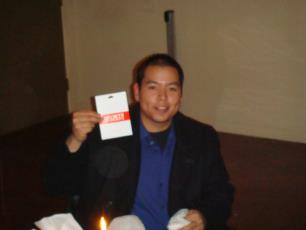 David Mena
September 2010
Employee of the month
Mr. Mena is American Air and Heating's Dispatcher. During the month of September Mr. Mena stood out from his other co-workers by putting in extra time in the office to help create work for the team. Mr. Mena worked late and some weekends making sure his technicians had enough calls and that the right technician was selected for the right client. Mr. Mena was selected by his peers and also recieved several responses from clients regarding their appreciation for his curteousy on the phone. Mr. Mena has been with American now for three years and this is just an example of his efforts, loyalty, and dedication.
Thank you Dave,
Your team-mates!
Each Month American Air and Heating chooses an Employee of the Month.
The process of selecting this individual:
Our co-workers, wholesalers, and clients have a say in the results.
Each co-worker gets a vote

Based on these things….
Attitude, punctuality, citizenship, skills, extraordinary service, going above the call of duty, customer service, their mindset, loyalty, success in numbers (productive), dynamic, a winner, someone who stands out!
After this selection we the company will survey our clients and wholesalers. The final result
will be based on the votes the leadership team here at American Air will select the winner.