661-

588

-1776
Bakersfield....Don't wait on some other companies waiting list! No need to be uncomfortable in this heat-wave!
We can get you in our schedule today and service your home or office within 24 hours.
Why choose American Dream Services for your needs?
*

FAST

24 hour, 7 day service.

Why wait?

97%

of all service calls

are completed on the

same day

. You get

Service in hours not days

.
*

Know the price UP FRONT.

You

save money

knowing the price before we start no matter how long the repair takes!
*

Fixed RIGHT

the FIRST time.

Your clean, courteous, certified technician has undergone many hours of training to keep up-to-date with current technology.
*

Enjoy our Maintenance Program.

With your regularly scheduled maintenance you get

LIFETIME warranty on parts we replace

,

15% off all repairs

, priority status, no overtime fees, your Comfort Club membership is backed by our

No-Risk Money back guarantee

.
*

Free

Energy Survey and

Free

Estimates

for second opinions on repairs, replacement systems, video duct and heat exchanger inspections, and in home air test.
* For your protection. Everything we do is in writing. – no fine print. Ask about our 100% Satisfaction Guarantee, On Time guarantee, No Lemon guarantee, and Workmanship promise.
*

FREE

Estimates with video inspection.

For duct cleaning, sealing, sanitizing or other air filtration products.
*
Clean, courteous, well trained certified technicians.
Your champion technician has undergone many hours of training to keep up-to-date with current technology so

your job is done right the first time.
Thank you for taking the time to visit American Dream Services Heating & Cooling. We are a cooling, heating, air purification/indoor air quality, and refrigeration company located in Bakersfield, California serving our clients in Kern County and the surrounding areas.
Should you need a company that specializes in the servicing, repairing, installing, cleaning, and maintaining complete air conditioning, furnace, or complete comfort systems for your home, office, facility, or restaurant we would love to serve you.
You can also follow us on Twitter and Facebook!
Read below for more information about our company....

The making of American Dream Services
A story of family, love, and dreams…
Dear Friend,
In April of 2012 my wife and I (Laura and RJ Allen) opened a Heating and Air Conditioning company named All American Air. We wanted to keep a name that was familiar to the community and that was important to us. You see, for over 20 years my parents owned and operated ARAC Inc. dba. American Air Heating Refrigeration. Unfortunately the demands of the HVAC-R trade has taken a toll on my Dad and Mom's health which lead to some unknown expenses in their life. In March of 2012 they choose retirement, filed for bankruptcy protection and closed their doors.
Let me back up for a minute
In February of 2007 Laura and I moved to Orange County. I was fortunate enough to earn a position working for a company that had won numerous Contractor of the Year awards and was voted best Heating and Air Conditioning company to work for in the Nation (Service Champions).
In May of 2009 my wife and I gave birth to our first child (Hannah Akira-Sue Allen). It became increasingly more difficult living 3 hours away from family. So in June of 2010 we came home. I took a job as a consultant while studying to get my contractors license. Once the license was in my hand and we were ready to begin the process of starting our company. We began buying a phone number and a website.
Joy and Sadness
As we were preparing for our future my parents health and their company struggled. We were all pretty devastated when the apparent choice was for them to file bankruptcy. The company I grew up in and loved…was gone.
Then, a colleague of mine made a suggestion, why don't I buy the company. I said "NO WAY" I want my company to be a fresh start. They turned to me and said you don't have to buy the company but you can buy their assets. We got an attorney and contacted the bankruptcy court. We petitioned the bankruptcy judge to sell us the phone number, web site, some office equipment, some of the trucks/vans, and the maintenance agreement client list.
New identity needed
Since my parents owned American Air, when we first began we attempted to start out as All American Air and when folks call 661-588-1776 expecting American Air but now you get "Thank you for calling All American Air" most people don't understand that you are a new company. Unfortunately, even with long discussions many folks still don't quite understand that American Air is gone but now All American Air owns the phone number. Many people think I took over the company from ma and pa or that I bought the company. I did NOT buy the company or take it over from the family. Our company is a brand new entity and has absolutely nothing to do with my parents or their company. Since there is just too much confusion over the name we have changed it: American Dream Services Heating and Cooling.
Providing the Service of your Dreams
It has long been the American Dream to either own your home or business. (The house with the white picket fence, the two cars in the drive way, or whatever you have in your own vision.) My wife and I started American Dream Services with a focus on providing the best possible service our clients have ever had at their home, office, or restaurant by ANY service provider. Service beyond your wildest dreams!
Designing the logo to match our beliefs
The logo took over 26 sketch artists working on this for us. When it was all said in done this is what it means to us:
We believe the shield represents the protection of our countries values and the protection that we give our clients homes or businesses by staying knowledgeable and up to date on current technology for an industry that deals with those hot Bakersfield summers, natural gas, high voltage electricity, water, mold, carbon monoxide, bacteria, allergies, asthma, flames/fires, and refrigerant. The ribbon states when we were established and what we believe you will come to find as award winning customer service.
You or someone you know
We are looking to provide services to those with an American Dream. If you are a homeowner or a business owner we are here to serve your dreams in the way of Air Conditioning, Heating, Refrigeration, and Indoor Air Quality/Filtration.
You will love working with our friendly staff, you will avoid waiting around with our incredibly fast response time, through the VERY best warranty in our area so you won't see yourself paying for the same part year after year, and you can breathe easier with our air quality solutions.
We will make you proud to refer us to your friends and neighbors.
Late addition
Oh and by the way 8 months after the start of our company we obtained something very special, our second baby girl (Chloe Elizabeth-Grace Allen).
Thank you to all of those who have shared in our prayers, tears, and efforts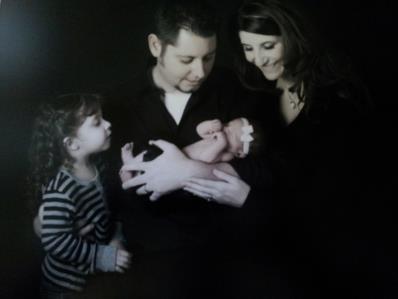 RJ, Laura, Hannah and Chloe
For a list of our full "Pledge Guarantees" at the top of this page scroll over the Why Choose Dream Serviceds button and scroll down to "We back our work" slot and click.
---
Looking for a new comfort system and would like to see if you qualify for financing Click on the button below. 50% of all applications will have results in 60 seconds or less.
---
American Dream Services employs only the best certified technicians for all your residential or commercial air conditioner repairs, heat pump repairs, and furnace repairs as well as all air conditioner replacements, furnace replacements and heat pump replacements our services included condensers, furnaces, package gas/electric or propane units, filters, high efficiency filters, U.V. lights, air filtration products, duct cleaning, duct sealing, duct replacements, exhaust fans, coolers, make up air systems, walk in boxes (medium temp and freezer temp), ice machines, reach in (medium temp and freezer temp), and other H.V.A.C.R systems.
To set-up a repair service diagnositc call or a "No Charge" in home replacement estimate you can schedule by:
Clicking on the link at the top of the screen that says SCHEDULE ONLINE